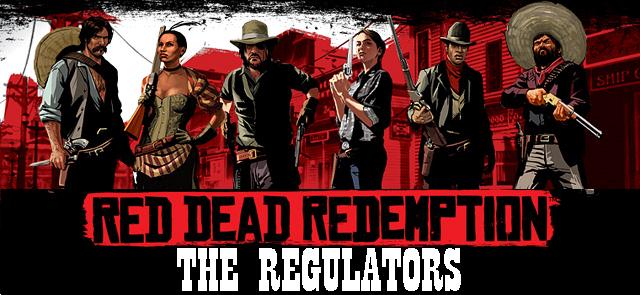 THE REGULATORS is a Red Dead Redemption posse.
About the posse
A small PS3 Posse from The Hole in the Wall forum. Originally created as an expansion of an Xbox 360 posse of the same name. This PS3 edition of The Regulators posse was organized by Darkwolf316 in April of 2010 in anticipation of the release of Red Dead Redemption. A decent sized group was recruited before the games launch and are currently recruiting for more active members. Our arch nemesis is the clan known as The Legends of Red Dead Redemption. We keep getting destroyed by these enemies and we need the help we can get to eliminate them. We have lost 29 battles against them. So our record is 0 - 29
Joining the posse
Join The Hole in the Wall forum below and in the PS3 section you can find The Regulators boards. In the "Current Members/Sign Up Post!" thread just request to be added to the roster.
Current Members
The Law
DarkWolf316 (Sheriff)
Kohitsuji (Deputy)
The Ranks
SORAROX100
Drak_Black
Immahippie
xMAJOR_BURNSx
krazeekidgeo
CrazyKatNinja
Monitor2112
Helgi-The-Devil
krm1263
JXZ2
biomajor09
way2go12
FateofDeath213
mypurplesock
Leeshaw-1
skeetemall
BMWrangle77
Veldel
Scream121
xIn-Gloriousx
BigMac83
Im_A_Nub_
FUZE7
Attack_Attack18
Castor272
NL_Sion
External links
The Hole in the Wall Forum [1]
Ad blocker interference detected!
Wikia is a free-to-use site that makes money from advertising. We have a modified experience for viewers using ad blockers

Wikia is not accessible if you've made further modifications. Remove the custom ad blocker rule(s) and the page will load as expected.