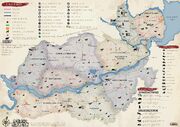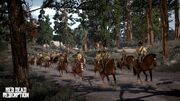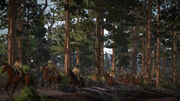 THE UNITED STATES CAVALRY NEEDS YOU TO FIGHT FOR OUR COUNTRY IN THE MEXICAN EXPEDITION AND TO ELIMINATE ANY DISTRESS CALLS FROM PRESIDENT TAFT.THE THINGS WE LIKE DOING IN THIS PARTICULAR CLAN IS ROLE PLAY, EVERYONE LIKES ROLE PLAY AND THE ROLE PLAY WE DO IS INVASIONS,COOP MISSIONS,FIRING SQUADS,ROAD BLOCKS WITH COACHES AND ALSO LITTLE THINGS LIKE PATROLS WITH A DOUBLE BARREL SHOTGUN AND FIRE BOTTLE AKA LANTERN.IF YOU DO START DOING THINGS LIKE KILLING TEAMMATES OR SHOOTING FOR NO REASON YOU WILL GET A WARNING,WHEN YOU JOIN YOU GET THREE WARNINGS USE ALL THREE AND YOU WILL BE KICKED FROM THE CLAN AND MEMBERS WILL BE ORDERED TO SHOOT YOU ON SITE.THERE ARE THREE TYPES OF GROUPS IN OUR CLAN AND THREE LEADERS FIRST,SECOND AND THIRD IN COMMAND.EACH OF THESE LEADERS WILL CONTROL A CERTAIN GROUP,THE LEADER CONTROLS THE CAVALRY,SECOND LEADER CONTROLS BUFFALO SOLDIERS AND THE THIRD LEADER CONTROLS THE INFANTRY.
THE LEADERS ARE iTzZ CaLLuM D x,stealthando123,xBmBxHeAdShoTzz.
RANGERS                    CAVALRY RANGERS         MARINES

RANGER:HALO x TROY        CAVALRY:FtWxLeGeNdS        MARINE:BIG F4T BEnDEr            
RANGER:COOK1E CRUNCH3R    CAVALRY:iXPREDATORX98      MARINE:ZY SHADOW YZ           
RANGER:HALO x JACK        CAVALRY:Ms5ter Dylan       MARINE:johnyboy6 
RANGER:uK perditioNZ      CAVALRY:seanie pops        MARINE:iiMERKmanz09
RANGER:iTzZ AdaaM x       CAVALRY:iTzZ LuKe M x      MARINE:COOK1E NINJA
RANGER:xJoK3r2            CAVALRY:CaLL Me Wrath x    MARINE:sdtaylor1000
RANGER:iTzZ CoNnoR x      CAVALRY:Ksnipes99          MARINE:Trebor 94
RANGER:iTzZ STeFaN L x    CAVALRY:                   MARINE:


THESE ARE ALL THE GROUPS IN THE CLAN IF YOU ARE INTERESTED IN THIS CLAN THEN MESSAGE ME THE LEADER iTzZ CaLLuM D x ON XBOX 360 SAYING YOU WANT TO JOIN AND WHAT CATEGORY YOU WANT TO BE IN.OTHER DETAILS ARE BASE:PACIFIC UNION R.R. CAMP/RANGER RECRUITMENT CAMP WEAPONS:BOLT ACTION RIFLE,ANY REVOLVER NOT PISTOLS AND FOR BUFFALO SOLDIERS BUFFALO RIFLE,CARCANO RIFLE,DOUBLE BARREL SHOTGUN LEVEL:ANY PRESTIGE LEVEL 40 OR IF YOU GOT LEGEND AND KILLERS PACK YOU CAN BE BUFFALO SOLDIER OR IF YOU GOT TITLE SCOUT TITLE:RANGER,SCOUT OR ANY OTHERS THAT ARE ARMY LIKE CHARACTERS:AMERICAN ARMY APART FROM THE LAST TWO AND BUFFALO SOLDIER MOUNT:ANY HORSE AND NO SUPER MOUNTS THE MAIN RULE IS DO WHAT IS TOLD AND YOU WONT GET PUNISHED THAT'S ABOUT IT REMEMBER CONTACT ME IF INTERESTED iTzZ CaLLuM D x.
Ad blocker interference detected!
Wikia is a free-to-use site that makes money from advertising. We have a modified experience for viewers using ad blockers

Wikia is not accessible if you've made further modifications. Remove the custom ad blocker rule(s) and the page will load as expected.