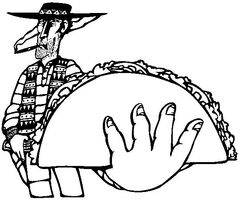 Taco Bandits is a Red Dead Redemption posse.
About the posse
The Taco Bandits exist to do 3 things
1. Kill Mexican gangs
2. Get drunk and kill for Narnia
3. Blow shit up with dynamite.
They are lead by the great Drewesfish588.
Those who oppose the Bandits face certain death....and then they will most likely have their corpses violated....up the butt.
Joining the posse
In order to join the Taco Bandits send a message to either Drewesfish588 or johnlmonkey over Xbox LIVE
Members
Leaders
Leader 1 Drewesfish588
Leader 2 johnlmonkey
Other members
Member 1 Last S0ldier
Member 2 Da Cruiser
Member 3 Yankeesrule1993
External links