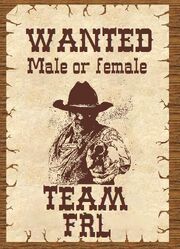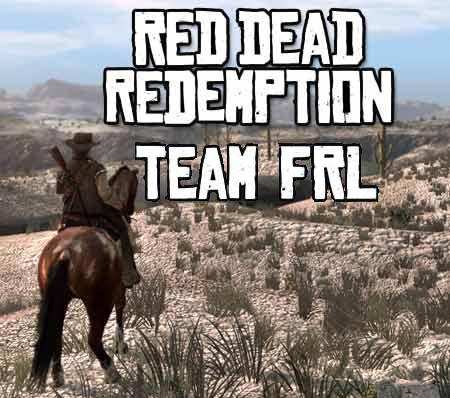 Team (frl) is a Red Dead Redemption posse.
Oer uze posse
Efkes Rap
Posse Leader: Spazzacamino
Skûlplak: Torquemada
Misken: 8
Ofkomst: Fryslân
Characters: US Army
Oer uze posse
Hoi efkes wat ynformaasje oer uze posse we binne een Fryske Clan, namme Team (frl)en we spielje útslútend op de Playstation 3. fjouwer hjier lien begon os een Call of Duty 4 Clan, hjirnei binne der meerdere spultsjes troch ús hannen west (sa daaliks een list) meerendiels sjit-spultsjes. Mei een 32 Members binne we al een grutte Clan! mar foar út sjanre free roamer binne we outnumberd!! sadwaande kom bei ús yn'e clan en meitsje der wat moois fan. --Spazzacamino 18:53, June 27, 2010 (UTC)
Team (frl) Spielet yn de folgende spultsjes:
Call of Duty - Modern Warfare
- Modern Warfare 2
- World at War
Grand Theft Auto IV (Incl. DLC's)
Red Dead Redemption (Monsterachtig !!!)
Bei de Posse hjerre
Ast wolst joine binne der mar een pear regels:
1 Hjimme matte út Fryslân komme
2 Gjin fratsen úthelje (we binne een freunen Posse)
3 Glitches binne Oke en MATTE dielt wurde yn'e Posse
4 De Characters die wei brûke matte fan ut Amerikaanse leger weze
5 Bruk de Titels diest Tawezen Krigest Ranger, Marshal en Corporal
6 Een Headset is nea ferplicht mar wol ferotte handig
Stjoer mar een freunen útnediging nei Spazzacamino mei os Onderwerp Clan/Join set yn dien berjochtsje dan efkes dien wenplak
Spazzacamino 12:40, June 25, 2010 (UTC)
Posse Misken
Haad Misken
Team (frl) General Spazzacamino Damwâld
Team (frl) Corporal T-Bag_Plumber Walterswâld
Posse Misken
1st Ranger Batt. Corporal T-Bag_Plumber Walterswâld
1st Ranger Batt. Marshal Bsjaakie Kollumersweach
1st Ranger Batt. Ranger Fryslan_FTW Walterswâld
1st Ranger Batt. Ranger Playpigg Walterswâld
2nd Ranger Batt. Corporal Sipma Kollumersweach
2nd Ranger Batt. Marshal BoringB_85 Damwâld
2nd Ranger Batt. Ranger Vira_Cocha Dokkum
2nd Ranger Batt. Ranger Sommel85 Damwâld
Rank Status
De Rank status wurd bepaalt troch wanneer hjimme oanmeld binne, bei elke nije oanmelding kin ut weze dot gwont fan hjimme benaamt (Promofjere) wurde nei een hegere rang Foarbild: Ranger nei Ranger 1st Class of selfs nei Corporal, Mei miskien dien eigen Battalion.
Skûlplak
Oer ús skûlplak is Torquemada. Mar der falt nog oer te stemmen (sinds wei een democratie binne) stjoer spazzacamino een berjochtsje mei os ûnderwerp Hideout, mei derien een plak yn de red dead redemption wrald. ik set don dien stem yn ut listje hjir ûnder, Meeste stimmen hjilde, ús hideout kin dus yn de tiid ek ferplaats wurde ost de stimmen wizegje.
Stimmen
Torquemada 100% 4 stimmen
BoringB_85 - Torquemada
Bsjaakie -
Fryslan_FTW -
Playpigg - Torquemada
Spazzacamino - Torquemada
Sipma -
T-Bag_Plumber - Torquemada
Vira-Cocha -
Sommel85 -
Eigen Ynbreng
Wolst wat fertelle of fienst dat er wat ferore mat wurde op uze side? Stjoer mei Spazzacamino efkes een berjochtsje en dan oerliz ik ut mei Corp. T-Bag_plumber.
External links
Ad blocker interference detected!
Wikia is a free-to-use site that makes money from advertising. We have a modified experience for viewers using ad blockers

Wikia is not accessible if you've made further modifications. Remove the custom ad blocker rule(s) and the page will load as expected.