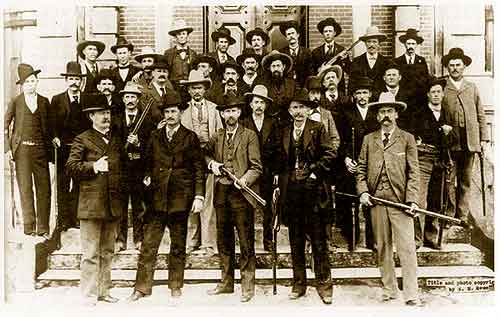 Texas Ranger Division is a Red Dead Redemption Organization.
About The Texas Ranger Division
DUTIES: The duties of the Texas Ranger Division consist of conducting criminal and special investigations; apprehending wanted felons; suppressing major disturbances; the protection of life and property; and rendering assistance to local law enforcement in suppressing crime and violence. The Texas Ranger Division is also responsible for the gathering and dissemination of criminal intelligence pertaining to all facets of organized crime. The Texas Ranger Division joins with all other enforcement agencies in the suppression of the same; Under orders of the Director, suppress all criminal activity in any given area, when it is apparent that the local officials are unwilling or unable to maintain law and order; Also upon the request or order of a judge of a court of record, Texas Rangers may serve as officers of the court and assist in the maintenance of decorum, the protection of life, and the preservation of property during any judicial proceeding; and provide protection for elected officials at public functions and at any other time or place when directed. The Texas Rangers, with the approval of the Director, may conduct investigations of any alleged misconduct on the part of other Department of Public Safety personnel.
Joining The Texas Rangers Division
Requirements:
Be able to uphold the law at all costs.
Willing to do what is neccesary to protect those of innocence.
Be dedicated to your beliefs and, your orginization.
Stand for the Texas Ranger Values.
Recruitment:
Contact H Company Commander with:
Console Type:
Gamer Tag / Playstation Network Name:
Reason why Texas Rangers Interest You:
Ranger Company's
---
Company H - Headquarters
Command
E-Mail: WarMartyr@live.com
PS3 Console

Rangers
Sergeant -
Corporal -
Trooper -
---
Company A - Operations
Command
Rangers
Sergeant -
Corporal -
Trooper -
Ad blocker interference detected!
Wikia is a free-to-use site that makes money from advertising. We have a modified experience for viewers using ad blockers

Wikia is not accessible if you've made further modifications. Remove the custom ad blocker rule(s) and the page will load as expected.