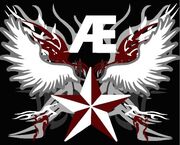 [[File:|thumb|256px|right]]
The Æsir is a Red Dead Redemption posse.
About the posse

The Æsir mercenary company was founded in 1908 in Liberty City, NY. The founders "Gray Fox" and Captain Dee met in a gun fight on the streets of Liberty City. The Swashbuckler Captain Dee invited the stealthy Irishman known as "Gray Fox" by the Native Americans to join his crew. They went up North to Canada and backed up a group of Canadian troops making their last stand at a broken down fort. They recruited two of the officers, Major Input a skilled tactician and the expert marksman known as "Cannnon Fodder" by his fellow troops due to him holding up on the frontline. They broke the seige on the fort and made their way back to Liberty City. They started officially started The Æsir mercenary company there. After working for the Feds, local police and gangs they heard the west was where the money was. Once they start a job they don't quit until they get paid, one way or another.

Joining the posse
Invite Only
Members
Xbox Live / PSN
Leaders
Leader 1 GrayFox006 / GrayFoxSix
Leader 2 CAPTAINxDEE / CAPTAINxDEE
Leader 3 CannonFodder135 / CannonFodder135
Leader 4 InputSnoopyZero
Leader 5 XescaflownX
Other members
Member 1 Jordan41
Member 2 Way2Fine
Member 3 DastardlyRascal
Member 4 BouncingTomb
Motto
We're owl exterminators!
External links
Ad blocker interference detected!
Wikia is a free-to-use site that makes money from advertising. We have a modified experience for viewers using ad blockers

Wikia is not accessible if you've made further modifications. Remove the custom ad blocker rule(s) and the page will load as expected.