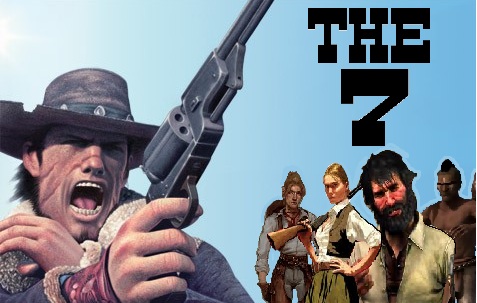 The 7 is a Red Dead Redemption posse.
About the posse
Unlike other posses The 7 only contains 7 members.
-all members are trained to use expert.
-no pistols (volcanic is the only acception)
-each member has set skills and weapons.
-Base is El Matedaro
Joining the posse
Send Cheeky_Bast_ard a message to recieve an invite.
after your skill is tested you will start expert training and become part of The 7. We use playstation and not XBL
Members
Leaders
CHEEKY_BAST_ARD
YEBBERZ_97 (Soldier)
Other members
MRS_KC_BAST_ARD (Rifles)
Sophiali86
Ireland-Anarchy (Heavy)
rdportney1 (Demolitions)
Motto
Give Em Hell or Give Em Nothing
Requirements
must speak english
Character must be an outlaw or a Random character (no uniforms)
beaten story mode
be atleast lvl 10
Ad blocker interference detected!
Wikia is a free-to-use site that makes money from advertising. We have a modified experience for viewers using ad blockers

Wikia is not accessible if you've made further modifications. Remove the custom ad blocker rule(s) and the page will load as expected.