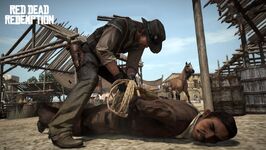 The Agency is a Red Dead Redemption posse.
About the posse
The Agency is a (PS3) posse of Law Abiding citizens who work together to bring down criminals and Gang Hideouts we will have organized events so all of us can be online together. The idea of the posse is to always play with a fellow member.
Joining the posse
To Join The Posse You Must
Have a PS3 and a working PSN account
Join our Private Forum So You Can Be Well Informed about our operations (link at the bottom)
Love the Law of the land and follow all the rules
Members
Commander
Assistant Commander
Sheriff
golden_jordie
ghost9920
XtremeskimmR
Deputy
X_Capone_X_213
Omen1972
elad1069
Officers
holymuffinman235
Mekari-
sagex333
Ace1Revolverman
External links
Ad blocker interference detected!
Wikia is a free-to-use site that makes money from advertising. We have a modified experience for viewers using ad blockers

Wikia is not accessible if you've made further modifications. Remove the custom ad blocker rule(s) and the page will load as expected.