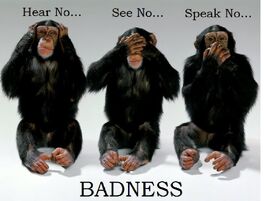 The Badness is a Red Dead Redemption posse.
About the posse
We are the badness, man! We are a posse of xbox live banditos, and....um....xbox live badness....and such. Fear us! We dwell deep within the fort of El Presido. Don't try and get in, trust me, we have cannons....and badness...and such. We are a peace loving bunch until we see you. Then we become angry at your presence and take offense to your lack of badness (aka kill as fast as possible...probably with cannons...and badness) Try to avoid our precious El Presido at all costs.
Joining the posse
You cannot. Trust me, you are not The Badness enough.
Members
Leaders
Other members
XIDainBrAMAGEIX
SpiderSlayerz
Zodiac Killer79
External links
Get your own,....badness
Ad blocker interference detected!
Wikia is a free-to-use site that makes money from advertising. We have a modified experience for viewers using ad blockers

Wikia is not accessible if you've made further modifications. Remove the custom ad blocker rule(s) and the page will load as expected.