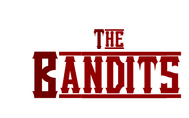 The Bandits is a Red Dead Redemption posse. More information about how the Bandits started can be found at the History tab.
The Bandits are active on the RedDead.Net forums and are playing on the Xbox 360.
About "The Bandits"
Founded by Dustin "Dusty" Clayton in 1905, "The Bandits" consist of Outlaws, Vigilantes, and Anarchists.
History
Dusty was born in 1871 in Bodie, California. His mother died during child birth and he was left with his dad. Right around the age of 5 the gold rush hit his hometown. Him and his dad went on the search for gold, but not with a shovel and pick-axe. During the night him and his father would would sneak in and steal gold from other people, it was here he had his first taste of being an outlaw.
At the age of 17 he got his first gun, a Winchester Model 1887 Shotgun. He made his first robbery at the age of 18 by holding up a local saloon. By age 25 he had robbed numerous saloons and had followed fellow outlaws down to Texas and assisted in many train robberies. By 1895 he had gone back to solo robberies until 10 years later he started his own posse, known simply as "The Bandits".
Now, in present day 1908, The Bandits are here seeking only 3 things:

Joining "The Bandits"
In order to join the posse, you need to sign up to the RedDead.net forums and post here.
"The Bandits" Ranks
Leader ● The Posse President
Bandit ● Highest rank
Outlaw ● Second highest rank
Vigilante ● Third highest rank
Cowboy ● Lowest rank
Follower ● Not an official member yet
Unique Ranks ● Unique Ranks will be given if deserved
Members

* kgould01●Cowboy *
External links
Ad blocker interference detected!
Wikia is a free-to-use site that makes money from advertising. We have a modified experience for viewers using ad blockers

Wikia is not accessible if you've made further modifications. Remove the custom ad blocker rule(s) and the page will load as expected.