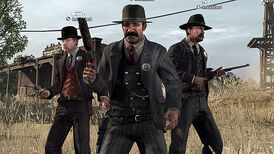 [[File:
The Black Water Mafia is a Red Dead Redemption posse.
About the posse
we own BlackWater if you dont pay use protection money we will be coming for you.
Joining the posse
if you wish to join ask any of the possie leaders when you join message me your levels and i will give you your rank
1/5 colector
6/10 scout
11/15 eran boy
16/20 reprosentitve
21/30 body guard
31/40 capo
41/50 consiliere
Members
Leaders
DON alertcriminal
Shlox
Da might ninja
Other members
External links
Ad blocker interference detected!
Wikia is a free-to-use site that makes money from advertising. We have a modified experience for viewers using ad blockers

Wikia is not accessible if you've made further modifications. Remove the custom ad blocker rule(s) and the page will load as expected.