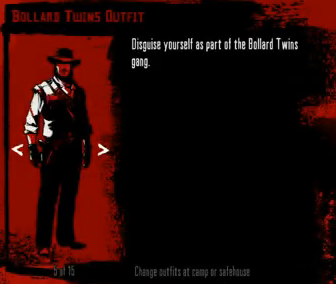 The Bollard Gang is a Red Dead Redemption posse.
About the posse
Our main objective is trying to annoy other people in the game, For example: killing people who trie to get XP by a hideout. And sometimes we are messing in El Presidio against the Mexican Army. Owww.... almost forgot , our hideout is The Wreck of Serendipity and we only play on Xbox Live.
Joining the posse
If you wanna join the Bollard gang, you have to (be) ;
1. Never killed by us
2. A Cattle Rustler
3. Know where The wreck of the Serendipity is
4. Above Level 10
5. Older then 12
6. Give the leader a message
7. Beat a cougar with a combat knife
8. Beat Pikes Basin without dying
9. Beat one of the leaders in a 1 to 1 dual in armadillo
Leaders
joris32= Joris
Fledyear2012= Jacob
Taiheev= Jasper
members
Member 1
Member 2
Member 3
External links
Ad blocker interference detected!
Wikia is a free-to-use site that makes money from advertising. We have a modified experience for viewers using ad blockers

Wikia is not accessible if you've made further modifications. Remove the custom ad blocker rule(s) and the page will load as expected.