The Bolt Action Assassins is a Red Dead Redemption posse.
About the posse
Just your usual clan, were up for battles if you are. Message sdtaylor1000 if you want in. If sdtaylor1000 is not on for a period of time, MiniatureThomas will be in his place as leader. We dont have loads of members but we do have a fair few based in Cochinay. You should be atleast level 25 to be invited into the clan:)
Joining the posse
If you want in on this posse just message sdtaylor1000, you should be atleast level 25 and will start at the basic rank of private and work your way up to gang lieutenant to get in but you need to enjoy and play the game :)
The Clan
Leaders:
sdtaylor1000
MiniatureThomas
Members:
bradstersmith
Sync x RaDoXz
xMYRA HINDLEYx
ii KiNG Holtonz
Edclan01
ii LEGEND ii xx
tangymrmoomoo2
PHOTO'S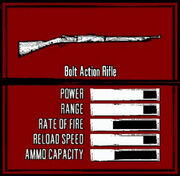 Ad blocker interference detected!
Wikia is a free-to-use site that makes money from advertising. We have a modified experience for viewers using ad blockers

Wikia is not accessible if you've made further modifications. Remove the custom ad blocker rule(s) and the page will load as expected.