Posse:The British Outlaws
Talk

0
Ad blocker interference detected!
Wikia is a free-to-use site that makes money from advertising. We have a modified experience for viewers using ad blockers

Wikia is not accessible if you've made further modifications. Remove the custom ad blocker rule(s) and the page will load as expected.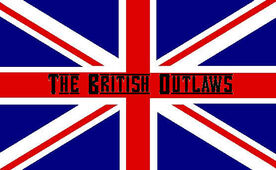 The British Outlaws is a Red Dead Redemption posse.
About the posse
Started in the North East of England, The British Outlaws hail from all over the country. We are a multi-console Posse with members from both Xbox Live and Playstation Network.
Joining the posse
To join the Posse simply message one of the leaders on XBL/PSN, depending on what console you will be playing on and inform us of your name, age, location and why you would like to join. Anyone can join but you must obide by certain rules, which are stated here;
- No Teamkilling

- No being a general douche

- Always respect member
Posse Members
Leaders
Kobra Nemesis (XBL) - Joe Tokell
Second In Command
ChrisJD07 (PSN) - Chris Davidson
Player of the Week
Officers
Skarym (XBL) - Marc Redhead
mayback adam (XBL) - Matty Adam
Member 3
Respected Members
Member 1
Member 2
Member 3
Newcomers
Member 1
Member 2
Member 3
External links