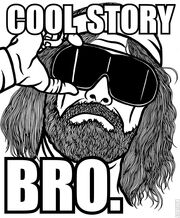 The Bro Clan is a Red Dead Redemption posse for Xbox Live.
About the posse
We are a mellow group of of bros looking to chillax in the desert. We believe that high power pistols are not chill enough so they are not allowed in the group. However, we also like turtles and taking advantage of lilNJ64 before 11 pm.
Joining the posse
STEPS TO JOINING THE POSSE


Send a text/voice message to either onemorklll, or any officer.
Prove your mellowness to at least three active bro clan members
Do something legit, with or without saying anything about it
Knife a cougar
List at least two Jack Johnson OR Incubus songs, or not, I mean, like were going to judge you
Prove that you have seen the bro-rape video/ are familiar with bro culture.
BRO CLAN CODE
Abstain from using any prohibited weapons
Restrain yourself from singing anti-mellow/rap music while in a game/party with other bro clan members
Sustain a mellow attitude
Entertain yourself, have fun, be mellow

In situations where you cannot remember the rules, simply remember Abstain Restrain Sustain Entertain, or A.R.S.E.




Leader

Officers

Members

Murzman53
Snipz Elite 21
Captain Kordo
OrangeLaxFan22
lilNJ64(in spirit, the ps3 got him)

WEAPON LIST

PERFERED WEAPONS

Knives(Throwing/Melee)
Pump-Action Shotgun
Mauser Pistol
Bolt-Action Rifle
Dynamite

AVOIDED WEAPONS

Sawed-Off Shotgun
Cattleman Revolver
Volcanic Pistol
Fire Bottle
Winchester Repeater

PROHIBITED WEAPONS

High-Powered Pistol
LeMatt Revolver
Semi-Automatic Shotgun

Its allowed... just dont tell anyone youre using it...

Buffalo Rifle
Lasso...




External links
Ad blocker interference detected!
Wikia is a free-to-use site that makes money from advertising. We have a modified experience for viewers using ad blockers

Wikia is not accessible if you've made further modifications. Remove the custom ad blocker rule(s) and the page will load as expected.