The Brotherhood is a Red Dead Redemption posse.
About the posse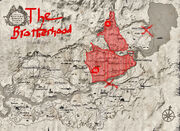 (PSN) The Brotherhood is an elite gang in America. Each brother has their own ambition: some fight for justice, some for fun, some for greed, some for love, some to redeem themselves, some for revenge and some for the glory of the Brotherhood Leader. The brothers are Fearless, cunning, strong and are true Gunslingers. -If anyone annoys you online we will try to track them down and kill them. -WE help our fellow brothers in shootouts and hdeouts -if their is a disagreement between some members it will be stteled with a fight where only knives and fists are allowed whoever wins, wins the arguement, whoever loses, loses the side of the arguement. -Traitors will be severely punished!
Story
Three Brothers, grew up with hate and regret. Their family was viciously killed by lawmen. The lawmen had the wrong people back in their town the lawmen were arrogant and killed for pleasure not for the law. After their parents death the three brothers vowed to take revenge on all the lawmen so they started their own clan, The Brotherhood, The old brotherhood. The old Brotherhood fell due to armies after armies of lawmen wishing to rid the world of the outlaw Brothers of hell, who which had their own specialty in weapons, some with repeaters, with rifles, with pistols, with dynamite, with knives, with snipers, with revolvers and so on. the brotherhood raided many towns such as old blackwater, armadillo, Escalera, Rathskeller Fork and many other towns and settlements of America causing the lawmen to hate them but bandits and outcasts to respect and join them. In the war between the brothers and the lawmen of America each brother killed 100 men until they died. Other bandits and outlaws idolized them as 'True gunslingers of America'.
6 years passed and the descendants of the old brotherhood reunited to take revenge on America for killing their ancestors, theyre will be many obstacles in their path to rule the west, Clan wars, Town raids, Robberies, Gang Hideouts, and Revenge.
Death is common, but thats just how The brotherhood like it.
Ranks
Below are the MAIN Ranks of the Brotherhood from Highest to lowest: (rank information also included at bottom of page)
xX--------------------------------------------------------BOSS----------------------------------------------Xx
x----------------------------------------------------RIGHT-HAND-MAN---------------------------------------x
x--------------------------------------------------------GENERAL----------------------------------------------x
x---------------------------------------------------------CAPTAIN-----------------------------------------------x
xX---------------------------------------------------------BANDIT-----------------------------------------------Xx
THESE ARE THE MAIN RANKS THERE ARE DIFFERENT MAIN RANK TYPES. THEY ARE LISTED HERE: (rank information also included)
LEADER / BOSS
RIGHT HAND MAN
GENERAL
BACKUP GENERAL
AMBUSH GENERAL
BODYGUARD GENERAL
CAPTAIN
FRONTIER CAPTAIN
SQUAD CAPTAIN
DUTY CAPTAIN
BANDIT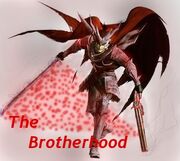 ---
-RANK INFORMATION -
LEADER / BOSS: the leader manages the clan.The leader chooses to accept or decline clan wars and can order atttacks whenever desired
RIGHT-HAND-MAN: the right-hand-man is basically second in command. The right hand man can inititate and lead attacks without the leaders permission. But can only go where the leader has ordered them. The right-hand-man can request clan wars but can not accept or decline them, unless the leader has ordered so.
GENERAL: The general cannot initiate attacks but may form and manage squads (refer to squad captain) and can choose who to lead the squad. (these apply to all general types)
BACKUP GENERAL: A general who has an allied clan's ID and can call in reinforcements.
AMBUSH GENERAL: (only neccesary in clan wars) If Ambushes are a part of a plot in clan wars the ambush general leads the ambush and strikes whenever they think is the right time
BODYGUARD GENERAL: (only neccesary in fights with a leader present) The bodyguard general is a protector of a certain member it could be another general, right hand man or the leader. The bodyguard general is ordered to guard someone only if the leader or right-hand-man orders to. the Bodyguard general cannot abandon the member he is guarding unless ordered too.
CAPTAIN: the captain is a leader of a group of members if higher ranking members are not present.
FRONTIER CAPTAIN: The frontier captain has a group of members in an ordered position they cannot move unless the leader has ordered, to backup other members (if ordered) or to move to a more strategic position (to take cover)
SQUAD CAPTAIN: The Squad captain can form their own squad of members and, unlike the frontier captain, move wherever they wish. They can initiate attacks from wherever they wish.
DUTY CAPTAIN: The Duty captain makes sure that other captains, squads and bandits are in their position performing there role as ordered.
BANDIT: a bandit is a confirmed member in the clan who fights for the clan.
---
Essentially there are also:
xX---------------------------------------------SPECIALISTS------------------------------------Xx
Specialists are for members with a more different trait to others. You may only get a rank under Specialist if you have passed the Captain rank and have a more unique fighting style or personality.
SPECIALIST
SUPPLIER
MARKSMAN
STRATEGIST
AMBASSADOR
RECRUITMENT OFFICER
SPECIALIST RANK INFORMATION
SUPPLIER: the supplier is expected to be a high level MP rank such as lvl 40-50. They supply other members with the weapons they have (from their level) and supply them with 'American Standard bred' if invading. And if ordered they find and hijack carts of any type.
MARKSMAN: The Marksman is a highly skilled individual member who uses the Carcano/Rolling Block Sniper rifle. In clan wars they are given an important position. Usually a strategic position where the enemy is unaware of their presence.
STRATEGISTS: The person who, along with occasional higher ranking offficials such as the leader or right had man, make the battle strategy, coming up with precise and strategic locations for upfront and/or ambushes.
AMBASSADOR: The ambassador, basically, brags about the clan. They join sites and can brag about the clan. They also advise the Leader of the clan other clans that may oppose a threat, or want to initiate an alliance
RECRUITMENT OFFICER: Any Captain or higher ranking member can get their friends wanting to join the BH for the leader to test them but if the leader isnt around then give em to the recruitment officer! The recruitment officer has to be a higher than average ffa/gang match player in normal or hardcore shootouts, so they have to be skilled to actually train the player if they deem them worthy send their names under "new recruit" to the Squad boss (deathmight or L3G3ND-0F-A-K1ND) dependng what main squad you are on.

Ranks,Ranking information made by L3G3ND.
-Specialist Ranks and information made by Weirdoracer and L3G3ND.
Joining the posse
contact: L3G3ND-0F-A-K1ND or deathmight on PSN to join, there may be a small test but mainly, just tell why you want to join and a little info about yourself
(Note its not OF in my name its 0F, zero thn capital F :D) (L3G3ND)
Members
Leaders
L3G3ND-0F-A-K1ND
DEATHMIGHT
Brothers
Scott3434
Keegbow
TA-widowmaker
Bohemath-indian
Smallchange_95
Bombchelle80
Stuntcok79
theharbinger88
ScottyRumpf
W-e-B-27
Mitch_Parnz
robustsumoninja
External links
(The BH website)
http://rdrthebrotherhood.webs.com/
Ad blocker interference detected!
Wikia is a free-to-use site that makes money from advertising. We have a modified experience for viewers using ad blockers

Wikia is not accessible if you've made further modifications. Remove the custom ad blocker rule(s) and the page will load as expected.