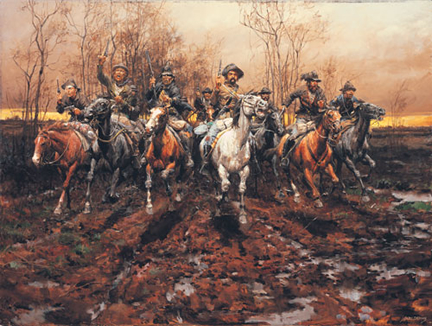 The Bushwhacker Rangers is a Red Dead Redemption posse.
About the posse
The Bushwhacker Rangers is a regiment of The Bushwhackers, which is led by Thecoltkid. We are a a gang of rangers that are skilled horsemen and deadly gunmen. Our gang is a sharpshooter/scouting regiment that does a variety of tasks to help support our brothers in the main posse. Everyone in the Rangers is a Bushwhacker. We are all brothers and we will help each other when needed.
We are an Xbox360 gang.
Duties
We will assist The Bushwhackers in whatever they need.
We will guard campsites and patrol Bushwhacker territory.
We will scout for The Bushwhackers in order to locate the enemy.
We will raid other posses.
Territory
Our territory is extensive, which is why we need more rangers in order to patrol and protect it. Our territory includes Bushwhacker territory (West Elizabeth and Hennigan's Stead) and Cholla Springs.
Rules
Always follow the orders of your superior.
Do not kill any of your fellow posse members.
NO SEMI-AUTOMATIC WEAPONS
Joining the posse
Message me, Pur3Metal, or Thecoltkid about joining The Bushwhackers or the Bushwhacker Rangers. We do not tolerate racism or sexism. There are no requirements to join. You have two options for joining. You may either be a full member of the Bushwhackers/Rangers (Regular), or you may join the Volunteers. The Volunteers are players that may participate in other posses or are not on Xbox often. However, if you are on, we may call you to help us out.
Members
Leaders
Snipers
Sniper - Fogells25
Sniper - CappedSiamang0
Riflemen
Ranger - Irish 671
Ranger - INCREDIBLExMRxE
Ranger - Colby 6lb
Volunteers
CORNCOBninja
XPIMPxPRINCESSX
BLACK MAMMOTH5
External links
The Bushwhackers page - http://reddead.wikia.com/wiki/Posse:The_Bushwhackers
Ad blocker interference detected!
Wikia is a free-to-use site that makes money from advertising. We have a modified experience for viewers using ad blockers

Wikia is not accessible if you've made further modifications. Remove the custom ad blocker rule(s) and the page will load as expected.