The Cartel is a Red Dead Redemption posse.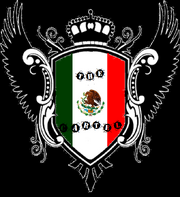 We smuggle drugs into America and control Mexico. We enjoy using machine gun wagons and stagecoach convoys. Each leader controls a town in Mexico.
Joining the posse
To join just add one of the leaders. WARNING: We are here to have fun, even if it means exploiting the game by use of glitches. We'll do what it takes to control Mexico!
Members
Leaders
El Jefe - Diablo Martinez PSN UNKNOWN
iCranie
Crabman103
Other members
External links