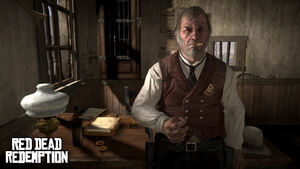 The Cavalry is a Red Dead Redemption posse.
About the posse
The Cavalry is a posse of Lawmen. We hunt Spawnkillers and Griefers as well as Public Enemies. This is the official page for The Cavalry.
Joining the posse
The Cavalry is a posse of relatively experienced lawmen. That means that all members must be playing as a lawman or marshall character. We will keep the peace in free roam sessions. We will kill public enemies and hunt down griefers and spawnkillers. I will take about ten good, relatively experienced men. We will play in casual and normal freeroam (because that's where the griefers are!) Just post your gamertag, your XP, and any reason you should be in The Cavalry. Once you are in I will friend request you on XBL. Sign up here- http://www.reddead.net/forums/thread-the-cavalry-recruitment-360
Playing Dates and Times
Next Playing Session- August 22nd @7:30 US Eastern Time
Members (By Gamertag)
Marshal
Sheriffs
Deputies
BEJOEftw
ShayneHX1887
mattie101
wildbadders
External links
Ad blocker interference detected!
Wikia is a free-to-use site that makes money from advertising. We have a modified experience for viewers using ad blockers

Wikia is not accessible if you've made further modifications. Remove the custom ad blocker rule(s) and the page will load as expected.