±
BLAZING GUN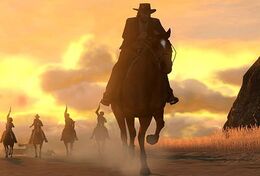 The Commanders is a Red Dead Redemption posse.
Our Prestigious Posse
We start wars with other gangs/opposing posse's
We have bases in Cochinay and the Wreck of Serendipity
We play competitively, and will not hesitate to shoot assailants or opposing scum-bags
Joining the posse
You need to have an Xbox Do not kill horses we own, and the stagecoach ones. ou may also have a code name. YOU MAY NOT KILL POSSE MEMBERS IF, YOU KILL LEADERS YOU WILL BE EXTERMINATED FROM THE POSSE UNTIL JUDGEMENT (wether we kill you and exterminate you or forgive you).
Members
Our members will be treated with the upmost respect, acting like a ruffian is only permitted against enemies.I have yet to insert further members
Leaders
Leader 1 xphilli x boyx aka The Commando
Leader 2 XxBLAZING GUNxX aka Commander Armitage
Other members
Member 1 xxxBIGMIKE19xxx aka The Shepherd
Member 2
Member 3
Member 4
Member 5
Member 6
Member 7
External links
Ad blocker interference detected!
Wikia is a free-to-use site that makes money from advertising. We have a modified experience for viewers using ad blockers

Wikia is not accessible if you've made further modifications. Remove the custom ad blocker rule(s) and the page will load as expected.