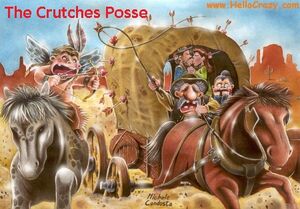 The Crutches is a Red Dead Redemption posse.
About the posse
Old crazy people having fun. where am I, who are you, I'm lost. can anyone show the way to Pike's Basin
PLS Help me!!! Where is my turtle,
Where's my horse? Wait I'm on it!!
My game froze! Caren close your freezer door.
Am I the posse leader?
Although most of these jokes are on caren_02 we only do this because shes very well liked. and P.S. don't follow Caren she's not called wrong way Caren for nothing.
Did you know tomahawks were not long distance weapons? Uhh.. Yeah
Wanna find the Crutches Posse? Look for CrossEyed-OldMan, CrossEyed-Swed or CrossEyed-Bobby.
Joining the posse
Ask us, we will probably forget that you asked! We have memory problems
headset required
PSN-only
Members
Leaders
Scrat1968 / Scrat1
caren_02 (Against her will)
Texasbeachbum
XXTheCrispyoneXX
XzX_Carl_XzX
deltaqueen
badplayer123456
sandmanR34
big_ronald_30
lion1953uk
Smeegle4U
musicmanbq
Pale--Rider--1
Mrs_Bear_
Mr_bear1
manIgottapee
rogier1607 [NL]
Peek_a_boo4
Iron_Force_Lead
DangerousChic01 (The Adopted One)

Clan:
CrossEyed-OldMan
CrossEyed-Swed
CrossEyed-Bobby
CrossEyed-Rebels
CrossEyed-Woman
CrossEyed-Aussi
CrossEyed-Cowboy
CrossEyed-Ghost
CrossEyed-Rain
and many more to come...
for more information on the clan please contact CrossEyed-OldMan or CrossEyed-Swed
External links
Ad blocker interference detected!
Wikia is a free-to-use site that makes money from advertising. We have a modified experience for viewers using ad blockers

Wikia is not accessible if you've made further modifications. Remove the custom ad blocker rule(s) and the page will load as expected.