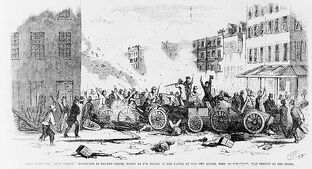 The Dead Rabbits is a Red Dead Redemption posse.
About the posse
Group of friends and family getting together to have fun and kill stuff while maintaining a sense of humor by shooting our buddies donkey or person for the fun of it and to tick him off. Very very laid back. Most of us are in Central Time Zone and a few in Mountain. We also play together in several other games such as Modern Warfare 2, CoD WaW, CoD4 (rarely), Halo 3 (rarely), Gears of War 2 (horde mode), Crackdown, Left 4 Dead 1 & 2, Borderlands, and other various multiplayer or single player games.
Joining the posse
Since it's only friends and family and not a public type of posse, I would not suggest this one for you. But if our style of play is to your liking, send a message to GT: Pnut4Turtleface.
Members
Pnut4Turtleface
The Gordfather
Mavsforever3
DuoX10
Enjun Joe
CrimsonGuard77
Leaders
Other members
Other pending members.
External links
Ad blocker interference detected!
Wikia is a free-to-use site that makes money from advertising. We have a modified experience for viewers using ad blockers

Wikia is not accessible if you've made further modifications. Remove the custom ad blocker rule(s) and the page will load as expected.