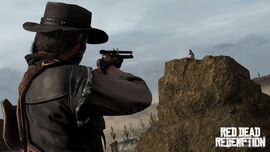 The Duo is a Red Dead Redemption posse.
About the posse
We are in it to win it, work with no one, and take no prisoners. We go out, kill everything everywhere, and never lose. We consist of two players, Sugarrnuttzz (Longshot) sniping and dominating from range, you won't know what hit you. While Slotterback (Quickshot) runs forward and unloads as many bullets into you as possible, before you even know he's there. We dominate and you remember, don't run. You'll just die tired.
Joining the posse
You can't join.
Members
Leaders
Sugarrnuttzz A.K.A The Duo- Longshot
Slotterback A.K.A The Duo- Quickshot
Other members
There are none, and no others are welcome, because then we wouldn't be the duo.
Ad blocker interference detected!
Wikia is a free-to-use site that makes money from advertising. We have a modified experience for viewers using ad blockers

Wikia is not accessible if you've made further modifications. Remove the custom ad blocker rule(s) and the page will load as expected.