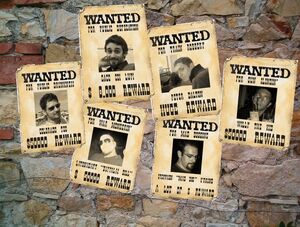 The Evil Gang is a Red Dead Redemption posse.
About the posse
This is an Italian PSN posse
Official blog: http://theevilgang.blogspot.com/
Joining the posse
This posse is private only
Members
Creators
Creator 1: TeoMagister (Colorado Teo)
Members
Member 1: NGO-Zer0 (Stepphen 'Mad Dog' O'Round)
Member 2: Icaro_h (Willy the Kid)
Member 3: Layonheart (BuffaLai Bill)
Member 4: DaKo_28 (Caco coi Lupi)
Member 5: pietrosx (Peter Dalton)
External links
Ad blocker interference detected!
Wikia is a free-to-use site that makes money from advertising. We have a modified experience for viewers using ad blockers

Wikia is not accessible if you've made further modifications. Remove the custom ad blocker rule(s) and the page will load as expected.