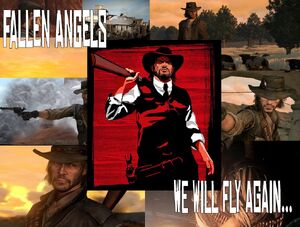 The Fallen Angels is a Red Dead Redemption posse.
Our Struggle
For every innocent life lost, we grow stronger. We do it for the money that fills our pockets, the look of fear in the eyes of our victims. We look back, the road behind us is painted by the blood of the ones we killed, we smile, and look ahead, a new town, a new location for mass genocide...
Joining the Cause
You wanna join? Add your name to the posse and send Kreepy Kowalski an invite on Xbox Live
Fallen Angels
Leader
The Fallen
PB Boy Jets
Shadowman1010
Kenpachii Z
II ShOOT 2 KiLl
External links
Ad blocker interference detected!
Wikia is a free-to-use site that makes money from advertising. We have a modified experience for viewers using ad blockers

Wikia is not accessible if you've made further modifications. Remove the custom ad blocker rule(s) and the page will load as expected.