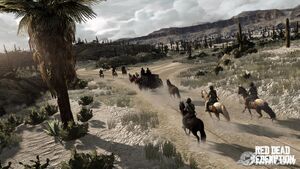 The Four CAKEmen is a Red Dead Redemption posse.
About the posse
We are a group of four people , inspired by the four horsemen (The Biblical ones not the possee) and we created the four cakemen. Originally going to be called the Hollowpoint possee however at the last moment we changed it to the four CAKEmen. Made from the original members of the CAKE clan made on CoD4 , the remaing four members created the four CAKEmen in honour of the clan. We are a Xbox live possee
Joining the posse
Like the CAKE clan we keep a 'closed door' policy.
Members
Nemo , Silent , Svear , Jackal
Leaders
Other members
Jackal aka Famine The Third
Svear aka War the Second
Silent aka Conquest The First
External links
Ad blocker interference detected!
Wikia is a free-to-use site that makes money from advertising. We have a modified experience for viewers using ad blockers

Wikia is not accessible if you've made further modifications. Remove the custom ad blocker rule(s) and the page will load as expected.