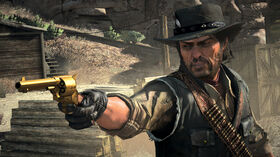 The Golden Gang is a Red Dead Redemption posse.
About the gang
we are are a gang of honor, violence and respect. in the we will attack you only if you shoot at or you talk shit to any member. in the gang you will anwser only to the leaders, whe the gang boss is not there you will anwser to the gang leader if you don't listen, team kill or your disrespectful you will be kicked. we are an outlaw clan so you may be any outlaw, characters that are not aloud are good revolver characters, good redemption characters ( john marton not aloud ) and lawmen. our base is torquemada located in east mexico, cochinay in east america.to join you must have one gold gun
in the gang i do not allow the N word and i do not allow sexists or racists. in the gang we do posse wars multiplayer modes gang hideouts and really anything else.
characters not aloud
rebels
american army
federales
lawmen
jack swift
buffalo soldier
red harlow
leigh johnson
nigel west
irish
jack marston
abagail marston
john marston
bonnie macfarlane
harold macdougle
Joining the posse
you must message me iambrettiam to join and you have to be an outlaw look above. once you join you must go threw a test. we play Xbox 360
Members
Leaders
gang boss - iambrettiam
gang leader - UnlivedHitman98
Other members
(Member 1 - playegage ) Member 2 - emosfox )( Member 3 - )( Member 4 - ) Member 5 - )(Member 6 -
External links
Ad blocker interference detected!
Wikia is a free-to-use site that makes money from advertising. We have a modified experience for viewers using ad blockers

Wikia is not accessible if you've made further modifications. Remove the custom ad blocker rule(s) and the page will load as expected.