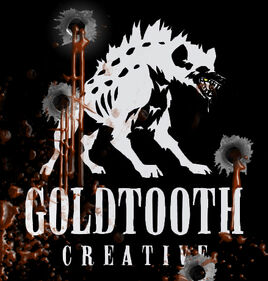 The Goldtooth Gang is a Red Dead Redemption posse.
GT Gang of Outlaws and Thugs !
GT members that work together kill together. Watch for us on PS3 - its join or DIE as we ride causing chaos and anarchy as we go
Joining the posse
Ya Gotta Work at Goldtooth Creative, if not: we kill you.
GT Militia Members
Leaders
Commandant - mrMSK
El Capitan - atomicpablo
Sargeant-@-Arms - stopemdead
Consigliere - libertas79
New Recruits
Ensign - KidNosferatu23
Gang Jester - sanchopenza
Militia Member - flyingquesedilla
Gang Decoy - lillersabomb
External links
---
[ http://goldtoothcreative.com/ ]
---
Ad blocker interference detected!
Wikia is a free-to-use site that makes money from advertising. We have a modified experience for viewers using ad blockers

Wikia is not accessible if you've made further modifications. Remove the custom ad blocker rule(s) and the page will load as expected.