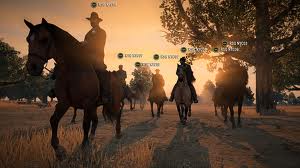 The Jackal Brothers is a Red Dead Redemption posse.
About the posse
We've been in New Austin since the beginning and can do in anything we want through out the territory. We Hold our own very well and can take down a full posse party in one free for all. Our hunting Priorities are extremley tasteful and can be done in just a few minutes. The gang is extrmely tight. We will come for you. But if you can't hold your own in a fight then your out!!!(We do make runs to Mexico Though). The gang can be inspiring, helping you out wherever you go. We will some time go on stealth missions but most are recon. Colonel Flood will travel with us only in gang Shootout Matches or if it matters.
Joining the posse
IF YOU WANT TO JOIN SEND COLONEL FLOOD A MESSAGE SAYING YOU WNAT TO JOIN BY TYPING IN A OUR NAMES !!!! AFTER THAT YOU WILL GO INTO 3 TRIALS... 1: YOU;LL HAVE TO HUNT AND KILL 3 BEARS WITH A REPEATER RIFLE SKIN THEM AND SELL THE PELTS 2: YOU'LL HAVE TO CLEAR A GANG HIDEOUT OF YOUR CHOOSING BY YOURSELF!!!! 3: YOU'LL PARTICIPATE IN A HOLD YOUR OWN MATCH YOU'LL HAVE 2 CHANCES IN THESE TRIALS SO TAKE YOUR TIME AND STAY CALM.
Members
Leaders
Colonel Flood
Viper(second in command)
Other members
Road Dog 45(specialist)
SwamppyBoy 2345(driver)
Billy Gun (sniper) .
Maxman-o(watcher)
External links
Ad blocker interference detected!
Wikia is a free-to-use site that makes money from advertising. We have a modified experience for viewers using ad blockers

Wikia is not accessible if you've made further modifications. Remove the custom ad blocker rule(s) and the page will load as expected.