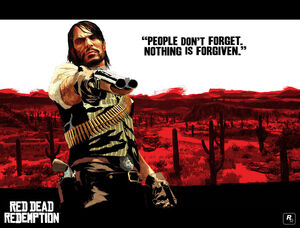 The League Of Redemption is a Red Dead Redemption posse.
About the posse
This clan was made to try and create a whole new style of red dead. We do not boost nor cheat but have a great time and a good laugh. Activity's involve hunting special gun challenges and sometimes races. The clan/pose is run in a slightly different way, with a council where the two top members agree on levels and other routines. It is possible to work your way up. Xbox360 only
Joining the posse
If any one wants a membership to our clan/posse it's totally free and easy just send a message to Myname is0wnage and await reply , you may be put through different initiations depending on the level.
Members
Myname is0wnage
Leaders
Myname is0wnage
XM Charlie XIII
Other members
Haz the EPIC123 Dogfight24
External links
Ad blocker interference detected!
Wikia is a free-to-use site that makes money from advertising. We have a modified experience for viewers using ad blockers

Wikia is not accessible if you've made further modifications. Remove the custom ad blocker rule(s) and the page will load as expected.