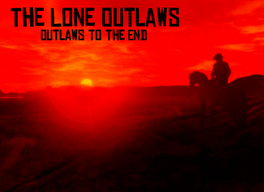 The Lone Outlaws is a Red Dead Redemption posse.
About the posse
The Lone Outlaws is a posse, that hangs out in New Austin around the Hennigan's Stead area, we are most into Gang matches, Gang shootout, and sometimes doing Gang hideouts. This is a Playstation 3 posse. More comming soon!
Joining the posse
To join the posse you gonna have atleast 1 golden gun, which you got WITHOUT boosting, so we know you got skills, i know we can't know for sure if you got it by boosting or not, but then we will test your skills. You also gotta have good skills in different gang matches and such, and you have to know or befriend one from the posse. No special level required to join, your level doesnt show your skills, it shows how much you played or boosted.
Members
The rank list will be like this: Nick name - PSN ID - Level. the number of stars (*) after your level, stands on how many times you passed into legend.
Leader
MarkNiko - mark-niko - 37***
Members
Mob - YJDO - 50
Brian - escola90 - 50*****
Randy - Dark_Randy - 49*
 ?
External links
Ad blocker interference detected!
Wikia is a free-to-use site that makes money from advertising. We have a modified experience for viewers using ad blockers

Wikia is not accessible if you've made further modifications. Remove the custom ad blocker rule(s) and the page will load as expected.