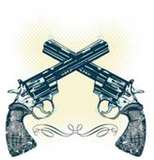 The Mercenari is a Red Dead Redemption posse.
About the posse
We're a Live posse that does whatever we want like gang hideouts, public enemies, etc. Usually if you will not get in our way we'll let you join for a little bit but not as an official member. Base of operations: Torquemada, Mexico
Joining the posse
We are currently not accepting any official members.
Members
See below
Leaders
Wartoast73
Corks17
Calsef
Ranking Officers
Fleetman16
Ryanmiller4
xZEROMANx
xxxHunter444
KRAEMER27
External links