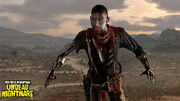 The Mexican/ American army is a Red Dead Redemption posse.
About the posse
Don't mess around when it comes to hideouts. We try to save or kill souls of these 2 damned countries.
Joining the posse
Find stickiermango35( Good luck LoL )
Leaders
Stickiermango35
FatalFollower
Members
coming SOON
Thebabaguanoush ( I think)
Ad blocker interference detected!
Wikia is a free-to-use site that makes money from advertising. We have a modified experience for viewers using ad blockers

Wikia is not accessible if you've made further modifications. Remove the custom ad blocker rule(s) and the page will load as expected.