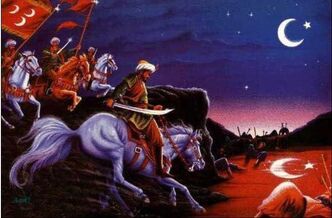 The Ottomans is a Red Dead Redemption posse.
About the posse
The Ottomans are one of the greatest and most powerful civilizations of the modern period. Their moment of glory in the sixteenth century represents one of the heights of human creativity, optimism, and artistry. NOW we will RULE Red Dead Redemption.

This is a Posse For Playstation 3. We are The Ottomans and we work as a T-E-A-M. IF you a TEAM-PLAYER and IF u like to have FUN then this Posse Will Suit You Perfectly.
Joining the posse
Send PM to Oni_BagaBondo or WhoKnows81 on PS3 (PSN ID)
We are looking special for Turkey player, but everybody is WELCOME
If u from another Country then English language is NECESSARILY
It's good if you have a mic, but it isn't necessarily.
Members
Leaders
Oni_BagaBondo
WhoKnows81
Other members
Member 1
Member 2
Member 3
External links
Ad blocker interference detected!
Wikia is a free-to-use site that makes money from advertising. We have a modified experience for viewers using ad blockers

Wikia is not accessible if you've made further modifications. Remove the custom ad blocker rule(s) and the page will load as expected.