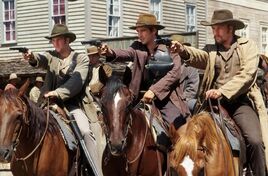 The Outlaws is a Red Dead Redemption posse.
About the posse
Get ready, little lady. Hell is coming to breakfast.
Joining the posse
Invitation Only (PS3)
Members
Leaders
Molson88 (Sam Bass)
Goatbeer (Sundance Kid)
Other members
Kobrabyte (Jesse James)
Oldgerdyb (Cherokee Bill)
External links
Ad blocker interference detected!
Wikia is a free-to-use site that makes money from advertising. We have a modified experience for viewers using ad blockers

Wikia is not accessible if you've made further modifications. Remove the custom ad blocker rule(s) and the page will load as expected.