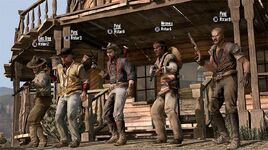 The Outlaws of Blackwater is a Red Dead Redemption posse.
About the posse
This is a Posse which is mainly focused on Gang Hideouts or other competitive multiplayer modes, we also kill other Posses that we find in free roam. We also hunt down hard challenges and achievements!
Joining the posse
To join this Posse you will need Red Dead Redemption for the Xbox 360, send a message to Sarokash and he will do some tests on how you play, if you are good, you are in. You need to be a level 20 atleast to enter this Posse.If he accepts you, add him as a friend and then you are a member of The Outlaws of Blackwater!
The Outlaws
Other Outlaws
WIZI4LIFE
Member 2
Member 3 etc.