Ad blocker interference detected!
Wikia is a free-to-use site that makes money from advertising. We have a modified experience for viewers using ad blockers

Wikia is not accessible if you've made further modifications. Remove the custom ad blocker rule(s) and the page will load as expected.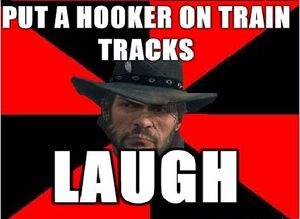 The Posse lickers is a Red Dead Redemption posse.
About the posse
just bunch of xbox live player that like to go out shoot and rob people (mainly prostitutes) our home base is Casa Madrugada and we will fight for it.
Joining the posse
pretty easy just pass the initiation golden tomohawk in the butt. xbox live and mics are needed
Members
Leaders
Leader 1 Lachlan 871; Rank-Captain
Leader 2 mulllins/damo1818; Rank-lieutenant
Other members
Member 1 bigmak sniper; Rank-corporal
Member 2 Raffa227 AKA pockets; Rank- master Sergeant
Member 3 fyb3r0ptikyo; Rank- private
Member 4 Im Mr Crispy; Rank- corporal
Member 5 vG aDDiCtIOn; Rank- prostitute
External links