The Public Enemies (XBL) is a Red Dead Redemption posse.
About The Gang
We are The Public Enemies, Red Dead Redemption most wanted Criminals. We may just be new but we are good. We kill anyone who wants to fight with us and if they kill one of us well kil them.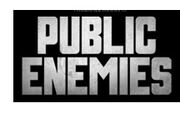 Safe Houses: Both Hotel rooms in Blackwater, (please suggest some apart from Cochinay because thats every posse in RDR's Gang Hideout)
We usually join a random game session and become Public Enemy (at Blackwater because we have safehouses there that we can camp from cops and Bounty Hunters.
Joinin' The Gang
To join us you have to be skilled, atleast level 30 or Legend and not be annoying. You have to be atleast 12 years old.
You can use any character (except Chrisse Weller) and you can use any mount (except Zebra Donkey, Luistiano Nag and El Senor.
Send me (Buffalo Joe x) a friend request and a message asking to join.

Public Enemy Number one : Buffalo Joe x
Public Enemy Number two : EFeXx faLLouT
Ad blocker interference detected!
Wikia is a free-to-use site that makes money from advertising. We have a modified experience for viewers using ad blockers

Wikia is not accessible if you've made further modifications. Remove the custom ad blocker rule(s) and the page will load as expected.