thumb|300px|left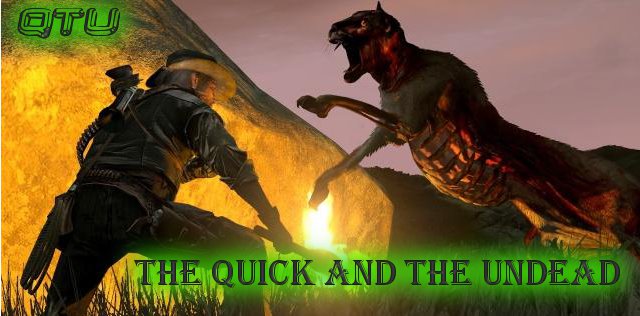 The Quick and the Undead is a Red Dead Redemption posse.
How the Clan Came to Be
5/27/2011 by WickedEssence07. WickedEssence is the Founder of the Clan. WickedEssence and Wicked Honey are the name Creators of The Quick and the Undead.
The Name The Quick and the Undead came to Wicked and Honey one day after having a conversation about playing Undead Over Run with Tyfer31. Tyfer was shooting down Zombies extremly quickly. Looking at this Honey and Wicked put there heads together and thought up The Quick and the Undead. The Name is unique and suits every member of this Clan. We are the Quick and the Undead... and We are here to stay!
About The Quick and Undead
Approach us with caution! If you start trouble with us, there will be trouble. We are extremly active in the free roams. You can find us just about anywhere. We roam and we rampage. We are happy to help with anything, achievements, leveling, and challenges. Including those hard to get Golden Guns! All you need to do is ask us. We are many who know the game better then most. If there is a misunderstanding please message us quickly and will try to sort out everything and anything that we can.
Joining our Clan
We are currently looking for new members to join our clan. Your qualifications... You CAN NOT be a modder nor a major glitch user to win battles. You MUST be able to do a one on one battle with a player of WickedEssence07's choice. And yes, we WILL make it someone on your rank and at your level.
Note: You must be over the age of 16 and maintain a mature additude.
If you think you have what it takes to be apart of The Quick and the Undead, please message one of the following:
WickedEssence07
Rift Ripper 8
UhOhItzPeachez & ViciousPeachez
Leaders
WickedEssence07-1st in Command
Rift Ripper 8-2nd in Command
UhOhItzPeachez & ViciousPeachez-3rd in Command
NOTE: Our Clan is always growing. Putting all Clan Members names on the site would be nearly impossible. Please see the Leaders for information on who is in the clan if you have any questions. Sorry for any inconvience this may have caused you.
Events
We do events all the time. Please see Leaders for information on any upcoming events.
NOTE: Any and all events from this point on (6/7/11) will be posted on here.
Links To Some Red Dead Redemption Assistance
NOTE: Click on Numbers Below to access the Links
[1] The Official Red Dead Redemption Facebook Site (This is for Triple XP Updates on Facebook.)
[2] FREE Fan Appreciation DLC for Red Dead Coming Soon
Ad blocker interference detected!
Wikia is a free-to-use site that makes money from advertising. We have a modified experience for viewers using ad blockers

Wikia is not accessible if you've made further modifications. Remove the custom ad blocker rule(s) and the page will load as expected.