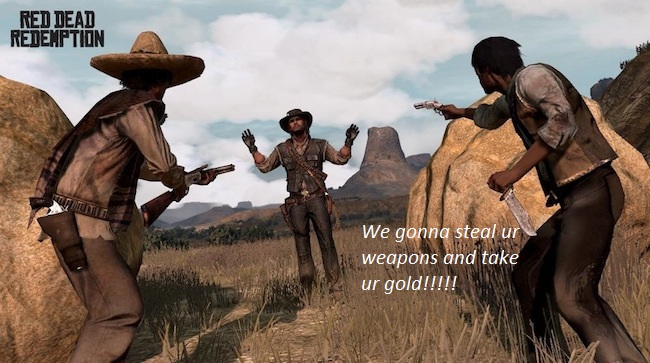 The Rath Bringer's is a Red Dead Redemption posse.
About the posse
The Rath Bringer's are a group that must have lots of talent and will risk anything for a posse member even if he is all the way at the other posse waiting for a ambush but more then that we are a group that will become very strong taking on the most populer posse's and even if they are a higher level we will beat them or at least try and this posse is a PSN posse.
Joining the posse
To join u will need to pass a test. U have to go to a better posse or a posse with alot of members and kill at the least 4 at the highest all of them.My PSN name is shadowdrake55.
Members
Shadowdrake55
Leaders
Leader 1 shadowdrake55
Leader 2 Blueflame1990
Other members
Member 1 DKanye03
Member 2
Member 3
External links
Ad blocker interference detected!
Wikia is a free-to-use site that makes money from advertising. We have a modified experience for viewers using ad blockers

Wikia is not accessible if you've made further modifications. Remove the custom ad blocker rule(s) and the page will load as expected.