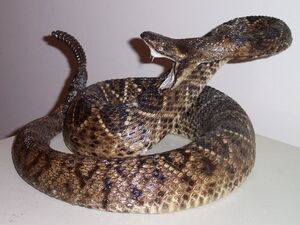 The Rattlesnakes is a Red Dead Redemption posse.
About the posse
The Rattlesnakes are an organized group of outlaws all banded together to battle all that stands for law and order enforced by the government. We operate out of The Wreck of the Serendipity & Cochinay. We will accept challenges from other posses as long as the fixtures are organized and fair. We operate on PSN normal free roam only.
Code of Honour
Only shoot when shot at unless ordered to fire. (With the exception of government controlled units.)
Only kill a woman in an act of self-defense.
Get along with your fellow gangmates.
Fight fairly.
Joining the posse
1. Send a friend request to Flexar10 with the message "Rattlesnakes".
2. You must play as a criminal, and may not change character without Flexar10's permission. Also, you cannot play as the same character as another gang member.
3. You must be at least lvl 15, 0 legend or above.
4. You must survive a hail of Maxim Gun fire from a gang member in Cochinay, then run up behind them and kill them with a melee knife.
5. You must be initiated. (You'll find out what it is when it happens.)
Members
Leaders
Leader 1: Flexar10
Leader 2 (Reserved)
Renowned Members
TOMdcrazy
Other members
External links
Ad blocker interference detected!
Wikia is a free-to-use site that makes money from advertising. We have a modified experience for viewers using ad blockers

Wikia is not accessible if you've made further modifications. Remove the custom ad blocker rule(s) and the page will load as expected.