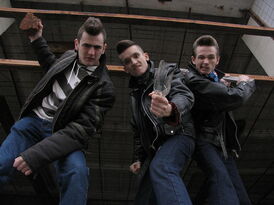 The Rebels is a Red Dead Redemption posse.
About the posse
One of the most deleterious posses in their time, The Rebels were heavily involved in criminal activity and bounty hunting, and known for all-around violence in general. "We have the fastest stallions and we have the quickest draw. You see the horizon and we see head shots. With cat-like reflexes and the hearts of dogs, we're in, we're out, and we're everything in between. We Tag 'em & bag 'em and when it's personal, we frag 'em & sag 'em," --RonziIIa187.
Criminal Activity
Arms Dealing: We trade guns for assistance
Border Running: Because we will find you
Theft: We love stealing modders' bulls/buffalo/buffalo rifles/zebras
Murder: Because we either don't like you or because you're getting too close and we don't take chances, punk!
Assassinations: We're for hire to eliminate any enemy players in exchange for guns & mounts. Likewise, we'll hire for the same exchanges and/or the life of an enemy.
Racketeering: We charge most non-posse players tax, which can cost as much as your life... and as little as your horse
Drug Use: A 1:3 ratio of posse members are always stoned
Rape: If we have a grudge or vendetta or you just got completely owned, we suggest you watch your killcam because you WILL be tea-bagged
Bounty Hunting
ALL NON-POSSE PLAYERS WHO BECOME "MOST WANTED" WILL BE HUNTED AND TAKEN CARE OF A.S.A.P.
Joining the posse
Must know a Rebel Chief
Rank does not matter, only skill
You must at least own a horse. We don't tolerate donkeys OR mules. Nags are negotiable
Rebel Leaders
The Chief Triumvirate:
"The Enemy of the State", RonziIIa187
"Stern But Just", xLtMarkx
"Blue-Eyed Devil", MJimiD
Rebel Members
External links