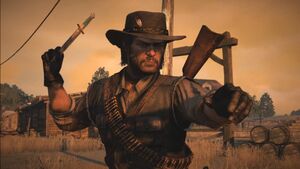 The Revolution is a Red Dead Redemption posse.
Who Are We
This gang was founded while the leaders were tag-teaming your mom. We are a group of the baddest mother fuckers you've ever seen.
XBOX only
You Want To Be A Part Of The Revolution?
Go to our website for more information on joining.
Words of Wisedom
"Are you mad you went out and spent 60 dollars on a game you suck at it?" "Break your disk." "Your as fat as timbucktoo" "Fuck off" "There's not enough room in this town for the twelve of us."
Members
Leaders
studlybeast34 (Star Player)
studly beast 9 (Slasher)
Other members
WhiteManMurda(Gang Lieutent)
EddieBurrrrrrto(Gringo)
External links