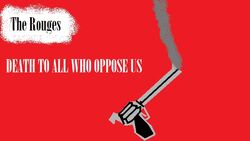 The Rouges is a Red Dead Redemption posse.
About the posse
The Rouges were founded on 5-18-10 by android24557 and sILeNT KiLL212, We are a group of outlaws that wander throughout the United States and Mexico while taking over small residential areas but reside permanantly in The Torquemada Valley on XBL.
Joining the posse
You must send a message to one of the leaders and they will consider you.
Members
Leaders
sILeNT KiLL212
android24557
Other members
Chriswalkins
Member 3 etc.
External links
TBA