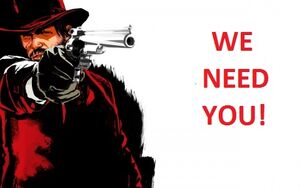 The Shining Knights - We Are The Knights Of Good! is a Red Dead Redemption posse.
About the posse
we are a new up and coming clan who's aim is to take the power from the old currently powerfull arrogant clans and make the world of red dead multiplayer a nicer place, only requirements is playing as any kind of character associated with authority be it army or law or buffalo soldier :P look forward to getting some requests and please be able to follow orders and be willing to make some personal sacrifices such as participating in clan battles if we need you and staying in contact with other members, no name change required, we may need some clan ID someone where in your profile and possibly a title change, lots of high ranking positions open as of now and no evil dishonourable people, we are knights after all :)
- the Holy Lion
Joining the posse
just message either the holy lion or kyletronikzz4 on xbox live.
Members
the holy lion, kyletronikzz4, reaper1818666, more joining soon.
Leaders
Leader 1 joint leadership currently between kyletronikzz4 and the holy lion
Leader 2
Other members
External links
Ad blocker interference detected!
Wikia is a free-to-use site that makes money from advertising. We have a modified experience for viewers using ad blockers

Wikia is not accessible if you've made further modifications. Remove the custom ad blocker rule(s) and the page will load as expected.