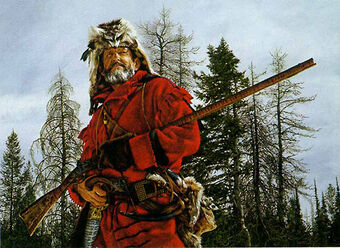 The Tall Trees Mountain Men is a Red Dead Redemption posse.
About the posse
I am a loner, but if you wish to travel with me company is welcomed. i usually keep to myself Hunting and enjoying the mountain scenery. but i get urges to go and raise hell on the settlers down below (usually theives landing or blackwater) or posses that disrupt my hunting or peace and quiet. we help eachother spot animals, and with other posses we hunt only what we need and live in harmony with the animals. Also, the people of Manzanita Post are not to be harmed, anyone who harms the citizens of Manzinita post will be hunted down. any person caught fratinizing with another posse, poaching the animals or living among the settlers is to be shunned from my protection. Native American style stalking and warfare is used by The men of Nekoti Rock. SO BE WARNED
Joining the posse
To join The Tall Trees Mountain Men you will meet me (REBEL WOODSMAN) at Manzanita Post at my convienence. I will accompany you on a hunt (on foot) up into the woods were you will stalk and kill 3 bears . Then once youve acheived that, use your newfound stalking skills to hunt one elk for the group. after you hunt the elk the group will meet up at the cave on Nekoti Rock and discuss your entry. Nobody under the age of 14 will be passed. Message REBEL WOODSMAN on XboxLive For Your Chance To Join
Members
DX ARMY01
Leaders
REBEL WOODSMAN
Redneck Jesus01
Other members
Member 1
Member 2
Member 3 etc.
External links
Ad blocker interference detected!
Wikia is a free-to-use site that makes money from advertising. We have a modified experience for viewers using ad blockers

Wikia is not accessible if you've made further modifications. Remove the custom ad blocker rule(s) and the page will load as expected.