Posse:The Thives Of New Austin
Talk

0
Ad blocker interference detected!
Wikia is a free-to-use site that makes money from advertising. We have a modified experience for viewers using ad blockers

Wikia is not accessible if you've made further modifications. Remove the custom ad blocker rule(s) and the page will load as expected.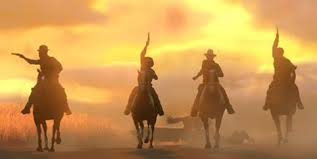 The Thives Of New Austin is a Red Dead Redemption posse.
About the posse
The Thives Of New Austin Posse is based around two areas. Thives Landing, and The Wreck Of The Serendipity. Both are run down areas full of us... Thives! We travel in small groups. And we focus on attacking others and striking fear into the hearts of our enemys! Taking other players by gun point is great! We also hold areas to ourself! With no one entering our land! Dont kill posse members or this will result badly.
Joining the posse
If you would like to join us, please send a message on Xbox Live too - TGK x DeCkSHoTT -
Members
TGK x DeCkSHoTT (Leader)                                                                                                                                                                                                                           MrB00mbastic777 (Co Leader)                                                                                                                                                                                                                      CrazyMoFarah900                                                                                                                                                                                                                                           solomonharrison                                                                                                                                                                                                                                                                                                                                                                    Trolmaster 127                                                                                                                                                                                                                                                          Gremlin Lazarus                                                                                                                                                                                                                                                        killer custard1
Leaders
Leader 1 TGK x DeCkSHoTT
Leader 2 MrB00mbastic777

Thanks for joining! :D