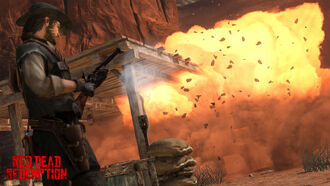 The Thunder gang is a Red Dead Redemption posse.
About the posse
we are gang of outlaws we have gang wars and we leave none alive we play liars dice and poker and we love a good fight and we play gang matchs etc.
Joining the posse
only people over level 20 can be in the posse person must be smart in battle and must be a team player also know how to have a good time like when we are Playing Poker Person must have all rdr Dlcs and we are on psn the person must send a message to Lacthunder1 on psn.
Members
Leaders
Other members
External links