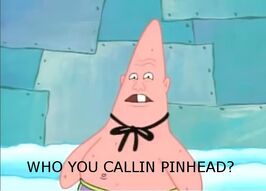 The Tunnel Snakes is a Red Dead Redemption posse.
About the posse
TUNNEL SNAKES RULE!
Joining the posse
You must pass a rigorous in-game test which we will present to you. The test consists of several questions, an obstacle course, and eating contest, a chess tournament, and you may have to run a few errands as well. But first, you must send a friend request to Pinhead Larry, and let us know how badly you want to join. Preferably on a scale from 1 to 15.
Members
THIS COULD BE YOU!
Leaders
Dirty Dan (K Ville Killa)
Pinhead Larry (teem schmikk)
External links
Ad blocker interference detected!
Wikia is a free-to-use site that makes money from advertising. We have a modified experience for viewers using ad blockers

Wikia is not accessible if you've made further modifications. Remove the custom ad blocker rule(s) and the page will load as expected.