Posse:The Turban Stealers
Talk

0
Ad blocker interference detected!
Wikia is a free-to-use site that makes money from advertising. We have a modified experience for viewers using ad blockers

Wikia is not accessible if you've made further modifications. Remove the custom ad blocker rule(s) and the page will load as expected.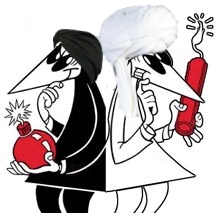 The Turban Stealers is a Red Dead Redemption posse.
About the posse
Well what can I say we are people who don't like turbans, if I see some-one with a turban than fuck me i'm going to steal it. If we can't wave our flags and wear our nations football shirt then you won't be wearing your turban simple
Joining the posse
If you would like to join the posse you can
Message the leader
Message the other members of the posse
Once you have done this we will invite you to game and see what your skills are like, if we like you and if its fun when we play with you. If you pass these you are then welcome to join the posse, and if you don't pass well FUCK OFF!
Members
x 7VI o s s Y x (The Cool One)
GilB2010 (The Sexy One)
MidweekG I Joe (The BBC Lover)
ZzLoCo LoGozZ (The Loud n Proud One)
izZ JoNEsY x (The Anti-Pro One)
zIi A c E iIz (The Silent One)
Leaders
x 7VI o s s Y x is the current leader, there will be a co-leader just not at this exact moment because im trying to find who would be the best co-leader. The only people which are able to become co-leaders are
GilB2010
MidweekG I Joe
ZzLoCo LoGozZ
izZ JoNEsY x
zIi A c E iIz
Other members
GilB2010
MidweekG I Joe
ZzLoCo LoGozZ
izZ JoNEsY x
zIi A c E iIz
External links